Day 4 - Tuesday November 6 - Bitter End to Anegada

Very early in the morning, I'm afraid to move my head.  But for some reason, I've never had a Bitter End hangover, even though I richly deserved one on from a couple of occasions, and today is no exception.  By 8 a.m. we are ready to take off, but haven't been able to pick up a weather forecast on the radio (and we're missing the familiar voice of David Jones,  "your BVI weatherman").  Failing that, Rick hails Moorings' Bitter End base and gets an updated from them.  They tell us that conditions will be rough for the rest of the week, and this is the only real window for an Anegada trip, with only one night there a possibility as conditions will deteriorate further after today.  We decide to go for it. We radio-ed Johnny J, but it appears that they're already gone.  Our sole aim is to beat the Moorings flotilla, because we will definitely want a mooring tonight, given the weather and sea conditions and the fact that the Anegada anchorage looks like an open roadstead.

It is sunny but the sailing is rough, with 6-8 foot seas.  We are under jib alone and making good time.  For a while, a pod of small dolphins cross our bow.  I go forward to get a better look, but we are pitching and rolling a good bit (with a following sea as well as occasional cross-seas) and I decide wisely to spend the rest of our passage in the cockpit.   I've loaded up the CD player with discs I've burned especially for a sailing trip, and we spend most of the trip singing happily along to Jimmy Buffett and others.  (Rick is a little curious as to why "Southern Cross" - in both the CS&N original and JB cover versions - seems to come up on every disc, but it's my favorite sailing song and he is forced to endure my singing the harmonies several times.)

As we get closer to Anegada, the water color turns that other-worldly blue I associate with the Out Islands of the Bahamas.  Indeed, the landmass of Anegada, low and scrubby, makes me feel like we are approaching Great Guana Cay instead.  Soon, we sight the markers for the entrance and grab one of the remaining moorings, having beaten the Moorings flotilla to it.  Johnny J is already here.  The swell is big and the winds roar from the southeast; the forecast is calling for it to clock around to the north later today, courtesy of Hurricane Michelle.  The water is iridescent blue, but murky from the weather.  I would sure love to see this in settled conditions, and am very thankful that, with the bottom and reefs invisible in these conditions, that the channel is well marked.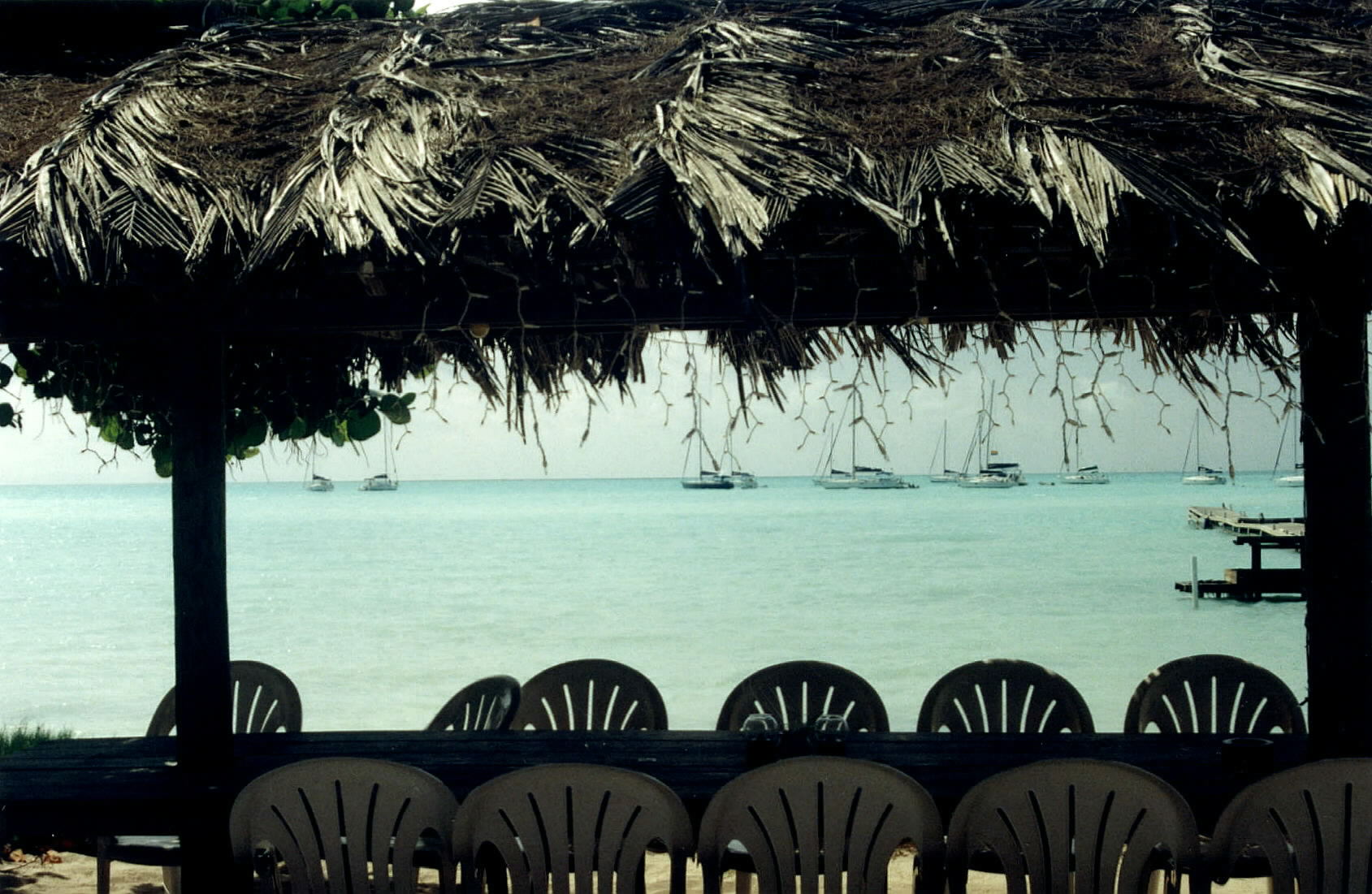 A view of the Anegada anchorage from the dining pavilion at the Anegada Reef Hotel.

Rick goes ashore to the Anegada Reef Hotel to pay for that coveted mooring and reserve a lobster dinner for tonight, while I make BLTs for lunch.   After lunch, we stop at the bar to catch a jitney to Loblolly Bay, one of the famous beaches of Anegada.  The beach here is endless beach with gorgeous clear blue water, but its churned up too, with impressive surf breaking on the reef offshore.  We walk a good distance, but find it difficult to find firm footing on the beach, with our feet sinking into the stuff at the water's edge like its wet cement.  We spend a few blissful hours here, swimming, sunning and strolling, and then walk back to the Big Bamboo to have a round of Caribs.  I agree that Loblolly Bay is a spectacular

beach, though we may not have seen it to its best advantage.  It makes my Top 10 List.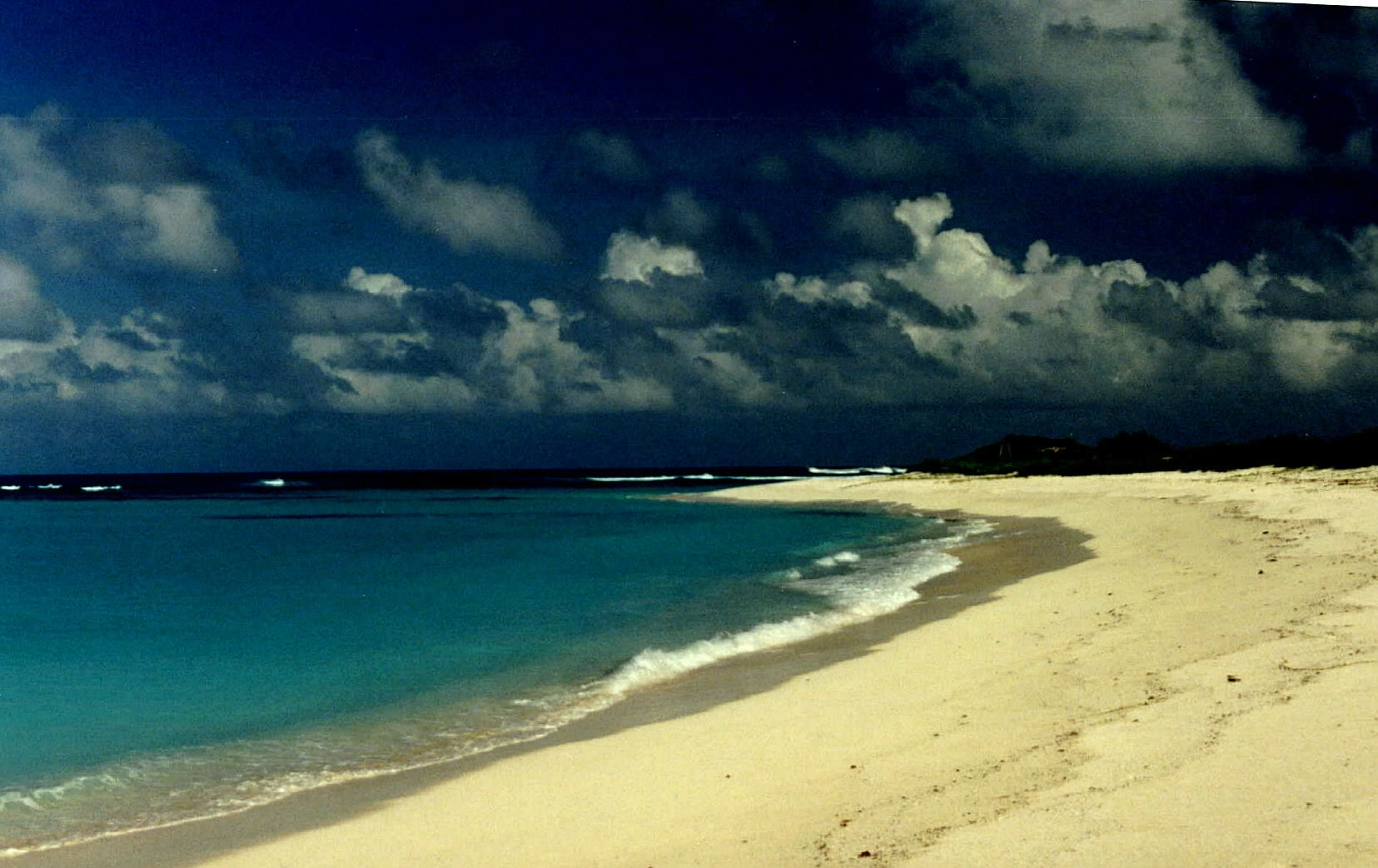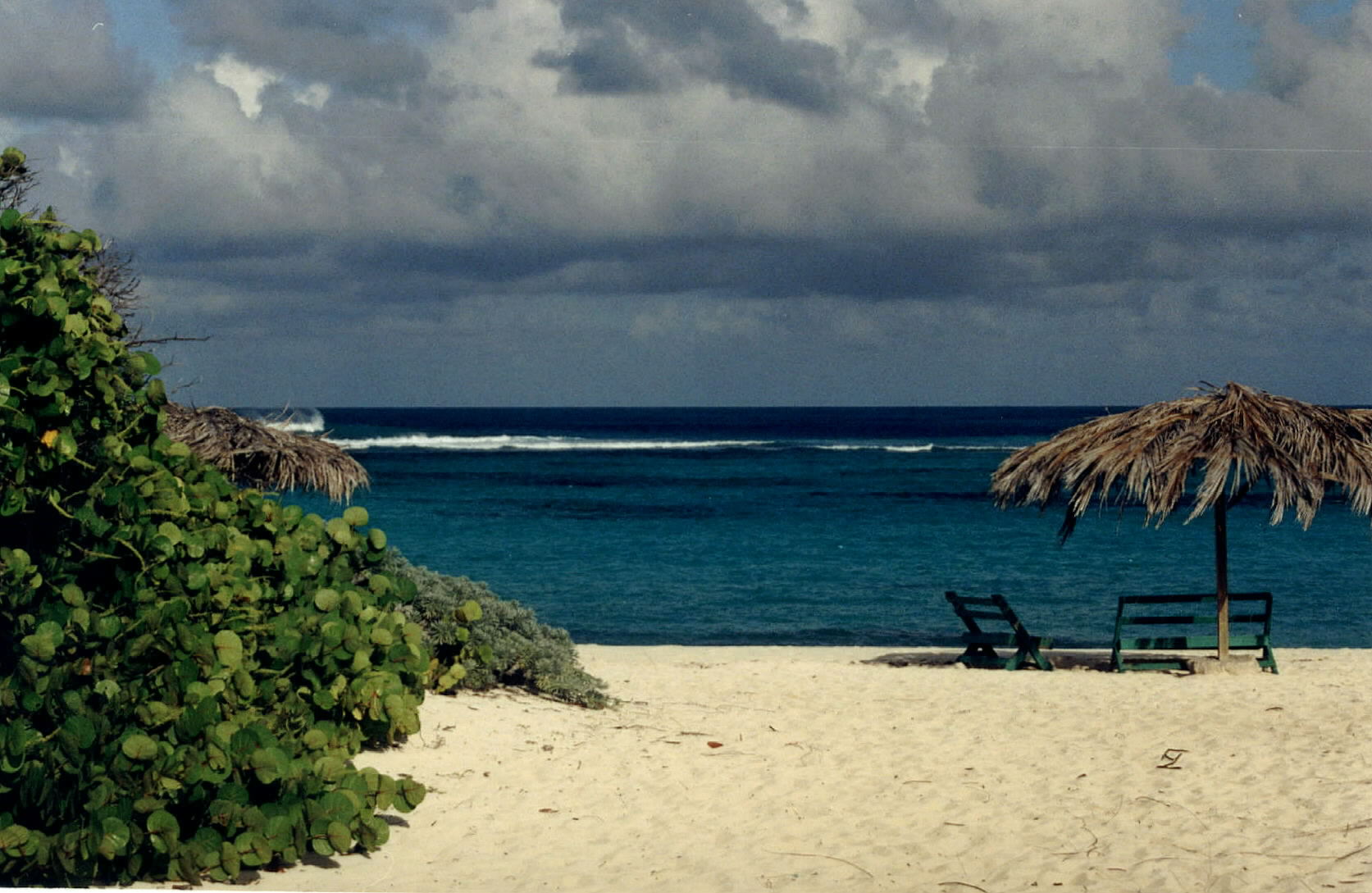 Views of Loblolly Bay, from the beach (top) and from Big Bamboo (bottom).

When we get back to Cocoon a little later, Rick gets the opportunity to gently encourage the skipper of the boat which anchored 30 feet away from us that they might want to anchor a little further away, especially with the anticipated wind shift.  The skipper is grateful for the gently-given suggestion, and moves to a safer spot.

Dinner at the Anegada Reef Hotel was a dream.  We arrived about 30 minutes before the appointed dinnertime of 7:30 p.m. to have cocktails at the beach bar and take in the sights and smells of delicious food cooking on grills made from 55-gallon barrels.  It was a very organized operation.   I generally don't order lobster because most places ruin it by overcooking, and as a Marylander, I prefer crab most days anyway.  But the Anegada Reef Hotel does it right.  An absolutely gigantic lobster  pulled out of the water just this day - is placed in front of me, sliced open, with sides of butter (hardly necessary), rice, lima beans, and cabbage.  The meat is sweet and tender with just the slightest hint of smoke.  Dessert is apple walnut coffee cake and coffee.  Mosquitos feast on me as I feast on lobster.  I suppose this is poetic justice: I eat a big bug while the little bugs eat me.

While we are in Anegada, we start noticing that no matter how long we run the engine, the batteries don't seem to be

keeping a charge.  The meter shows over 12.5 when we finish running the engine, but within an our, it is down to 10.5.  While this doesn't affect most systems on the boat adversely, we are finding that our groceries are freezing and thawing, forcing us to run the engine more frequently to keep our meat frozen and our Carib cold.