SAILING IN THE ABACOS -- JUNE 2002

Part 1: Getting There:- June 8

It's now been over 2 years since we last visited Abaco.  Not for lack of trying, however.  We were supposed to have sailed last November, but bad weather (Hurricane Michelle) intervened.  So instead we managed to sail in the British Virgin Islands that week.  This time, like our BVI trip, it's just me and Cap'n Rick.  We've enjoyed sailing with friends and family, but we're awfully happy to be on our own.  It's a totally different experience and we make a great team.  After years of sailing together, we know our roles and jobs instinctively, without any of that yelling you see from other couples, particularly in tense anchoring situations.  We like to do most of the same things, but also let each other do our "own" activities -- like Rick's diving.  And since we not traveling with a crew, which tends to be its own self-contained social unit, we meet more people (when not seeking privacy).

This is our 20th trip "down island" in nearly 13 years of marriage.  But instead of becoming blasé about the trips, I find myself more anxious in anticipating each trip, and less able to recover from the high when we get back.  And in this case, we had one of the longest countdowns ever (we booked this trip at the Annapolis sailboat show in October 2000!).  Luckily, the mechanics of the trips, at this stage, are easy -- booking, planning, preparation, getting there, etc. all follow a well-trod path.

And so, on the morning of June 8, we are finally on our way.  We got up at 4:30 a.m. for our 5 a.m. pick-up.  We are dropped at BWI's American Airlines counter, where chaotic lines rule the day.  After 40 minutes of waiting, while the agents are separating the Miami (us) and San Juan travelers from the rest, we finally check in, only to be singled out for special luggage screening.  This happens to us so regularly that I wonder if we don't fit some special profile (aside from the obvious and dangerous "Boring White-Bread Teva-Wearing Yuppie Scum").  Any other frequent island travelers with the same thoughts?  At this juncture, Cap'n Rick is required to remove his underwater camera (which is in a Pelican case) from his checked bag, because the screening would destroy the film, and he is not allowed to return it to the bag  (it's a good thing he had only one small carry-on -- otherwise he would have exceeded his carry-on allotment with the Pelican case).  Beyond this, regular security takes another 20 minutes.  BWI is the first airport in the U.S. to have professional, government employees handling security, and believe me, it makes a HUGE difference.  They are thorough but efficient, and above all courteous.

The boarding process was equally chaotic.  Several families with multiple small children and their associated strollers, car seats, diaper bags, etc. were waiting to board (American no longer allows pre-boarding), and perversely, one adult from each of these groups was selected for security screening at the gate, leaving the other parent to struggle with 2-3 little kids and their clobber by themselves.

Needless to say, with all of this messing about, we took off 20 minutes late and arrived in Miami 20 minutes late, threatening our tight 1 hour connection.  Rick and I made a run for the American Eagle gate, but were continually blocked by people bigger than us (or with bags bigger than us) trying to plow us down  I told Rick we needed to find a clear path of people smaller than us, so that we could run them over!  We got to the gate, breathless, just as the bus was about to pull away.  They held it so that I could go through another security check which felt more like a sobriety test (as I stood with my arms out, I was told to raise one lethal sandal-clad foot at a time behind me, so that it could be scanned, and as I was doing so was told to raise it higher than humanly comfortable so as not to trouble the aching back of the security officer).

We finally got on the bus and met a group from Boston waiting from someone on our BWI flight who did NOT run for the gate and ultimately didn't make the flight.  It was pouring rain, and I worried that our bags wouldn't make it.  We met a lot of friendly people on the bus, many of whom would be sailing as well.  The MHH flight took off a bit late, but landed right on time in sunshine, with a few clouds.  As we were landing, we were treated to views of the cays, including the only sighting of the Hopetown lighthouse I would have all week.  We didn't get immigration cards on the plane, so upon landing, everyone was scrambling to fill them out even as they lined up for immigration.  We got through quickly, but it didn't matter because the bags took 15 minutes to reach the terminal.  Once we got ours (yea! they made it!), customs was  breeze and we grabbed Ben Dawson's brand new taxi/van to take us to Marsh Harbour Marina.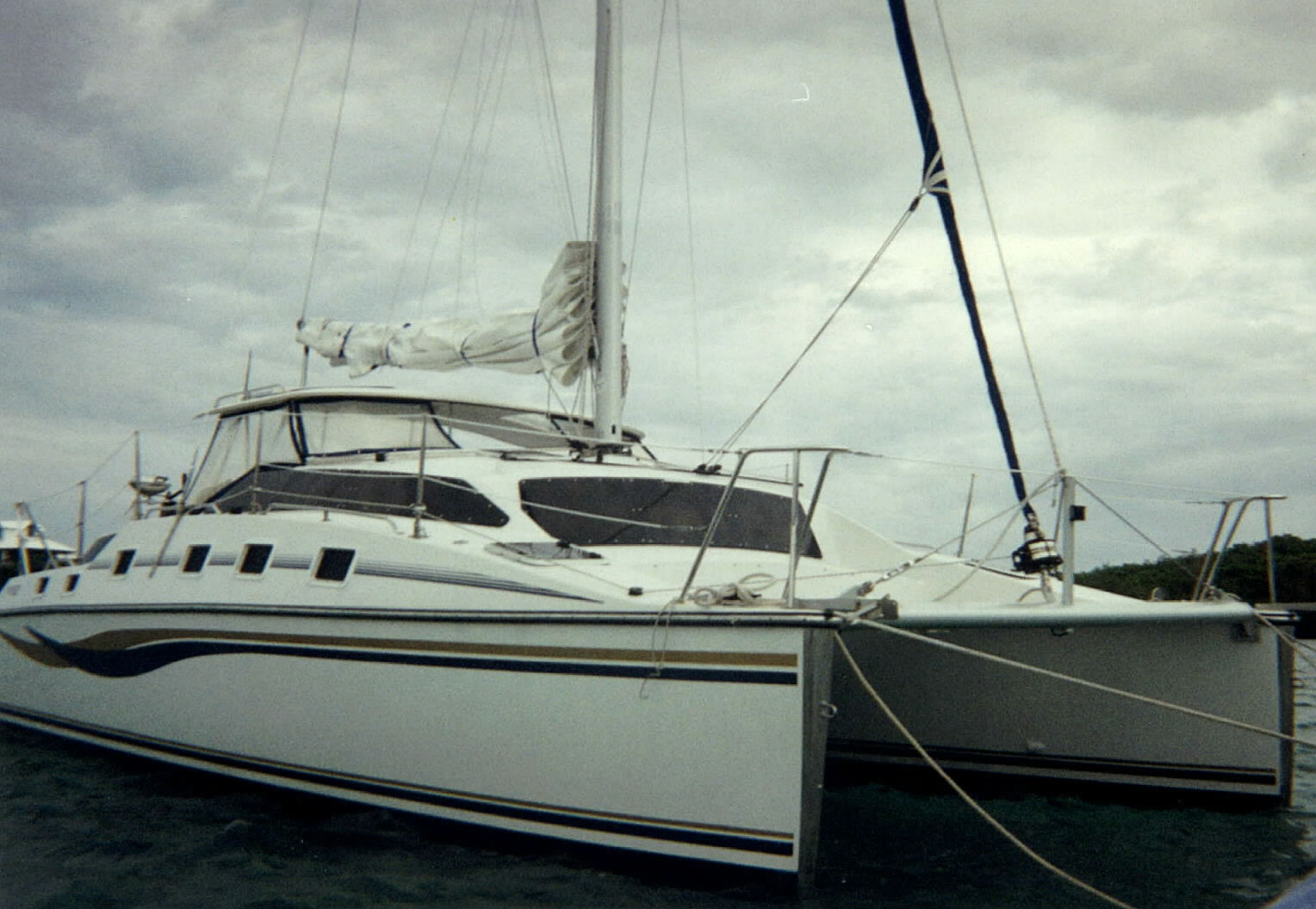 Trinket, the PDQ 32 we chartered from Sail Abaco for our June, 2002 adventure.

At the marina, Mike Houghton of Sail Abaco was deep in the bowels of one of his fleet, sweating in the heat, so we simply dropped our bags on Trinket, the PDQ 32 which would be our home for the week, and had Ben drop us off at Sappodilly's for lunch, with an agreement to pick us up at 2:30 to make our provisioning rounds.  Lunch was Kalik (now I'm FINALLY on vacation), conch fritters, conch and grouper burgers.  While we waited for Ben, I ran down the road to Iggy Biggy to get Rick a new leash for his sunglasses and picked up the ever-essential silver toe ring for myself. 

Once Ben picked us up, we went on a hyper-efficient commando provisioning run.  Ben and Rick dropped me off at Sawyer's, while they went to the liquor store and bakery.  My grocery list is

complete, but geared towards items I know I can usually find in an island supermarket.  Even so, I was pleasantly surprised with the variety and quality of goods I found at Sawyer's, including really nice NY strip steaks, and I was able to buy everything on my list but yogurt for $125.  This is more than the prices at home, but that's the price of paradise.  Rick and Ben found me just as I finished up, and then we made our last stop: Long's Landing Seafood for grouper and conch.  We were all done in just under an hour.

Then came the hot, stuffy work of stowing it all aboard Trinket.  This boat, a 32 foot PDQ catamaran, is owned personally by Mike Houghton (and is, incidentally, for sale).  It is in beautiful condition and is ideal for a couple chartering alone or with one or two children (it would be tight for two couples).  There is a roomy cockpit covered with a hard dodger; the dodger supports solar panels which re-charge the batteries, eliminating the need to run the engine to keep the refrigeration going.  From the cockpit, you step into a bright, airy U-shaped saloon.  Step down two steps to port (left) to find a small but efficient galley, complete with 12 volt refrigeration, sink, two-burner gas stove, and storage.  Aft (rear) of the galley is one of the 2 queen-sized berths, which is set high, requiring a climb up the bench into bed.  Step down two steps from the saloon to starboard (right) and you have a navigation station with bench, a head (toilet and sink, which converts into a shower) forward, and the second berth aft.  In the front is the ever-important trampoline connecting the two hulls of the catamaran, where one can spend daylight lolling in the sun, or evenings gazing at the stars.

After all this hard work, it was time to head for the bar (the Jib Room) and the pool.  The sweet young man tending bar made bushwhackers for us, and brought them to us in the pool, where we were trying to cool off in water just barely cooler than the air temperature.  The pool was full of other marina guests, many of whom apparently keep their boats in Marsh Harbour and make the trip over from Florida on a regular basis  we had not encountered this sub-group of Abaco visitors on our previous trips, which had been in April or March.

By this time, Mike and his helper, Jane, were done with the hard work of getting the boats ready for today's 4 p.m. charter starts, so we offered them drinks and hung out a while.  Jane and I went to the bar to get the special drink, the Bilge Burner, which certainly blasted away some brain cells, while I made Mike a rum and ginger ale.  By the time we headed for the Jib Room's famous Saturday steak cook-out, we had good buzzes going.   Rick and I opted for the fish, which was mahi mahi, while we treated Mike and Jane to great-looking prime rib (no steak tonight, but beef lovers were not disappointed).  A local rake-and-scrape band provided atmosphere and dance music.  We laughed ourselves silly as we told scurrilous tales about people we knew or knew of, but wore ourselves out by about 9 p.m. (it had been a long day for ALL of us).

While we could have sailed off at 4 p.m., we had elected to spend the night in the marina, which may not have been the best choice.  It was a long night.  It was still and hot in the marina, and the mangroves nearby supplied a steady stream of hungry mosquitos who were only stilled after a middle-of-the-night application of Off Skintastic.  A little too much booze made sleep difficult as well.   But we looked forward to sailing off tomorrow