THE BIG ISLAND DOWN UNDER: AUSTRALIA: January/February, 2005

Why Australia?

As most followers of my travel adventures know, if it's winter and I'm away from home, I'm most likely in the Caribbean.  Yet this year, Rick and I made a huge departure from form and headed to Australia.  Heading to the southern latitudes was a long time in the making.

Some years ago, Rick and I were idly pondering where we saw ourselves marking our 40th birthdays.  That our birthday plans would involve travel was a given.  Rick was interested in something nautical and piratical, and when the time came, I threw an "A Pirate Looks at 40" party for him and some friends aboard a chartered boat in Key West.  I dreamed of being at Wimbledon on my birthday -- I'm an avid player and fan of tennis, and my summer birthday falls at the end of the tournament.

Yet, when it came time to try to make the birthday fantasy a reality, the facts had an unfortunate way of interjecting themselves.  And the facts were that guaranteed tickets to Wimbledon are about as easy to come by as an unoccupied mooring ball in Cooper Island's Manchioneel Bay at 6 p.m. during high season, with a correspondingly dear price.  Not wanting to rule out a Grand Slam tennis tournament altogether, we investigated further and found that, compared to Wimbledon, taking a 2 week trip to Australia which would include the final rounds of the Australian Open was relatively do-able.  And, how many of us haven't dreamed of visiting Australia?  We were willing to excuse the technicality that the planned trip would occur months before my Big Birthday and took the plunge.  Our trip would was planned for January 23 through February 7, 2005, and would include Melbourne, the Whitsunday Islands, and Sydney.

Complications

We booked our trip through Championship Tennis Tours; we are not normally tour people, but this company did the hard work of procuring the Aussie Open tickets, as well putting together hotels and air, from LAX and within Australia.  There were a few low-key group events planned as well, but because of Rick's work schedule, we would be doing the trip in reverse order from the rest of the group.  We had to book our own air from Dulles to LAX, and did so on our old standby, American Airlines.  Since I have a brother who lives in California, I arranged an early arrival in LA on Sunday to spend the day with him before our 11:15 p.m. departure on Qantas, as well as booking a day room at an airport hotel so we could rest and freshen up before the trans-pacific flight.

Given our track record, a travel snafu was inevitable.  I tried to keep my cool in the days before departure, but my apprehension proved well-founded when the forecast for 8-12 inches of snow on Saturday came to fruition.  I maintained optimism that we would get to LA on Sunday, but my first attempt to print boarding passes failed.  This being the Wussy Land South of the Mason-Dixon Line (i.e. Maryland and Virginia), my 9 a.m. flight for Sunday was already cancelled.  After being on hold forever, I was able to re-book for a later flight to LAX.  In the meantime, poor Rick was at the doctor, getting the dreaded diagnosis of flu and the unwelcome advice that he might not want to fly on Sunday.  (Luckily, he was no longer contagious, just miserable, and the doctor told him to use his discretion about flying.)

As Rick collapsed into bed, I shoveled the driveway and fretted, and packed our bags and fretted some more.  As we prepared to leave for a Dulles airport hotel (park-fly-drive package) that evening, I checked our new flight.  Cancelled as well.  I got back on the phone with AA as the deadline to cancel my hotel reservation without penalty expired, but this time there were no available flights from IAD to LAX that would get us there in time to make our Qantas flight.  The AA ticket agent and I spent 40 minutes on the phone frantically clacking away on our computers trying to find a way to get us to LAX, an urgency compounded by the fact that every Qantas flight from the US to Australia for at least the next 3 days was overbooked – we could tolerate maybe a day's delay, but any more than that and we'd lose the benefit of tournament tickets, planned outings, and non-refundable hotel. 

Lucky for me, the AA agent was so grateful to be talking to someone (me) who didn't blame her for the weather and the resultant travel problems that she was willing to go to quite heroic efforts to get me to LAX, even though my separate bookings on AA and Qantas did not obligate her to do anything.  At last, we hit upon a less-than-ideal-but-workable solution: Rick and I would drive far enough south to be out of the snowstorm and catch a flight from there.  We re-booked for flights originating in Richmond, 130 miles away from our home.  The new flights were not direct, and were so much later that seeing my brother in LA was out, but would have to do.  A further exception was made by AA to re-route our return flight to Richmond (instead of IAD) as well, so that we wouldn't be stuck with a car in Richmond while returning to Dulles.

As the storm was still dumping snow on us (and sleet on Richmond), and the weather was supposed to turn very windy, there were no assurances that our new flights would fly either, but it was all we could do.  After a night of virtually no rest and lots more fretting, we left home Sunday morning, giving ourselves a comfortable margin of time to cope with bad roads (which had not been plowed as of the time we left). 

We arrived in Richmond in plenty of time, but the airport was DEAD.  My heart sank; due to the glazing of ice everywhere, I was convinced we were foiled yet again and that flights were cancelled.  But my heart resumed its beating when I realized that near-dead is the normal condition at this tiny airport.  I said a small prayer of thanks when our flight to DFW left on time, and breathed an even greater sigh of relief when we arrived at LAX.

There Are Airports Worse than MIA

As my travels often take me through Miami, I have become convinced that few airports rival MIA for ill-conceived design, delays, lack of passenger amenities, and utter chaos.  LAX's international terminal left me pining for MIA.  Dimly lit, poorly marked, and with rows of airline counters lining up perpendicular to the entrances, the first obstacle is merely finding your airline's counter.  (Note: Qantas flights to Sydney depart from the American Airlines terminal; however, all other Qantas flights – including ours to Melbourne – leave from the international terminal).

Once we plowed through the endless line and got our unenviable seat assignments (Row 62, window and center), we had to drag our bags over to x-ray and then drag ourselves through security.  Despite the dozens of flights leaving for Pacific Rim destinations in the hours between 10 p.m. and 1 a.m., exactly ONE security station was operating in an un-air-conditioned space where hundreds of cranky people were cooled only by fans.  Even flight crews had to queue up in the line.

When you finally get through, you find a terminal bereft of virtually all amenities other than a currency exchange and duty free shop.  Forget decent food – there is a little pub-like concession, with room for about a dozen customers, that serves beer, wine and pre-packaged sandwiches and salads.  The waiting lounges for the flights don't have enough seating for the hundreds of passengers who fill these jumbo jet flights.  And of course, this is all added to the misery of my body feeling like it's 2 a.m. when we finally board the plane.

Melbourne – At Last!

Despite my exhaustion and frustration, I was quite relieved to get on the plane.  Alas, probably due to my state of over-tiredness, and despite the Ambien prescribed by my internist for the flight, I slept almost not at all throughout the 14 hours of this flight.  Fortunately for insomniacs like me, each seat on Qantas comes with its own video screen and plenty of movie entertainment; unfortunately for me, my favorite feature was "Flightpath" which allowed me to check the progress of our flight with compulsive frequency so that I knew exactly how much longer this seemingly endless night would be.  Luckily for Rick, his being sick (and the codeine-spiked cough medicine, undoubtedly) helped him sleep, and when we arrived in Melbourne, he was almost human.  We shuffled through customs and immigration, which took nearly an hour because it took so long to off-load luggage.  At last, we stepped out into the bright sunshine of a summer morning in Melbourne, two calendar days after we left LA (due to crossing the international date line, roughly 9,000 miles, and 16 time zones), a full 37 degrees south of the equator.

A taxi took us to the Langham Hotel, part of Melbourne's Southgate complex.  Though it was just after 11 a.m., our room was ready.  The hotel is gorgeous – the higher end of business class hotels.  (It reminds me of the Le Meridien hotels I've stayed at in Boston and New Orleans, though with more dramatic public spaces; it's not quite to the level of Ritz Carlton, though, because the rooms are just a notch below that quality level).  We declined to upgrade to a riverview room and suffered not at all, because our "city view" room gave us a view of Port Phillip Bay in the distance, blue and dotted with sailboats most days.  We gratefully dropped our bags and took showers in the ultra-luxe marble bathroom.  However, we were unable to confirm definitively that the water goes down the drain clockwise in the southern hemisphere.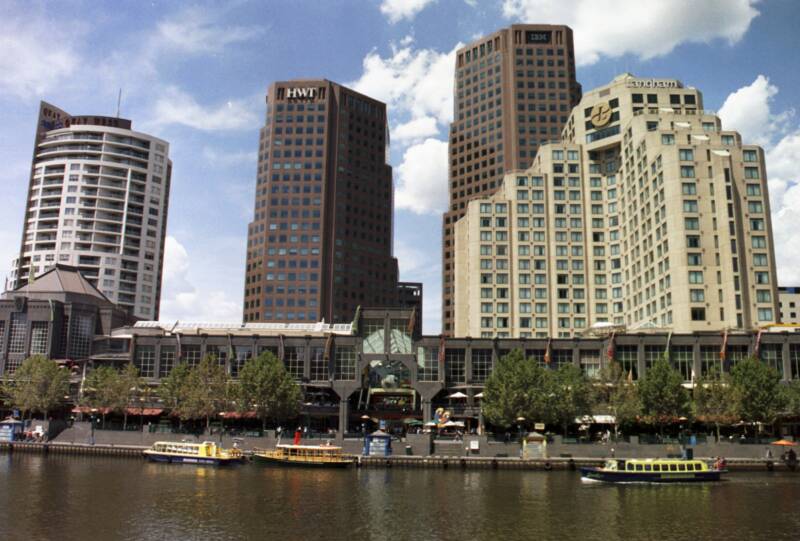 Since it was lunchtime, we ventured outside for food.  The Southgate complex where we were located is a development on the south side of the Yarra River and combines retail, restaurants, hotels, commercial office buildings and residences along a promenade next to the river.  The area was bustling with life – office workers on break, tourists, families strolling, occasional street performers (especially on weekends), a Sunday craft market, and sidewalk cafes, all of which gave the area a somewhat European vibe.  Across the river, reached by a pedestrian walkway conveniently adjacent to our hotel, is the Victorian-era Flinders Station, the hub of public transportation in Melbourne. 

Southgate, as viewed from the north bank of theYarra River.  Our hotel, the Langham, is the building on the left.

Our arrival day was deliciously hot, sunny, and humid.  Melbourne's weather is notoriously fickle, so this day (or hour) could easily be followed by a cold, rainy one;  however, every day we spent in Melbourne was warm/hot and sunny except for one, which was dank and rainy.  As we settled on a lunch spot, which was full of office workers, I noticed how brief (by U.S. Mid-Atlantic office standards) their attire – especially the womens' – was: strappy tank tops or lingerie-inspired camisoles, and slim-fitting skirts, with bare legs and sandals were the norm.  This made me glad I smartened up my own travel wardrobe from the minimal stuff I toss in a duffel bag for a trip Down Island, and even gladder that sneakers and fanny packs are never included in my luggage.

Our first meal, in a café/bar that had a business lunch special for $10, was the first of a great many delicious meals.  I'm not sure what my expectations were before arrival, but with a handful of mediocre exceptions, we found the food in the areas of Australia we visited absolutely wonderful.  The influx of immigrants over the decades has greatly influenced the cuisine, and we enjoyed fantastic Italian, Greek and Chinese food.  Chefs have a deft touch with seafood and meat (never overcooked), and a lightly-dressed salad of field greens (or "rocket" or "roquette") is a perfect accompaniment to a summer meal.  A welcome English influence was breakfast, at least for those who wanted a substantial start to the day: eggs, bacon and sausage, mushrooms, grilled tomatoes.  We made a point of seeking out Australian specialties when we could: vegemite (pass on that one!), lamb, barramundi, Moreton Bay bugs, Queensland mud crabs, and kangaroo found their way into our meals where available.  As for Australian wine … more on that later!

We had a few especially notable meals in Melbourne, but sadly, I don't know the name of two of the restaurants!  But, I'll start with the one I do know…

Botanical Hotel.  This was our "special occasion" spot in Melbourne.  Admittedly, we had wanted to eat at the celebrated Flower Drum, which The New York Times dubbed the best Chinese restaurant in the world.  However, our concierge told us that to get a reservation there during the Australian Open required booking 1-2 YEARS in advance.  Before we left for our trip, a friend had sent me a clipping from Saveur magazine about The Botanical, so that made for a good alternate, and we were not disappointed.

The restaurant is very modern and stylish – all light woods, glass, stainless steel and hard surfaces and angles.  Its claim to fame is the wine selection: there is a wine list in the menu, an additional glass wall displaying wine bottles (including Penfolds' Grange lines, with prices in excess of $500 a bottle!), and an adjacent package store where you can choose from even more and have it served with your meal for a $15 corkage fee.  Having just toured a number of Yarra Valley wineries a few days before, we chose a bottle at the package store from one of the wineries we visited – deBortoli.  The food at The Botanical was great –combinations of fresh local ingredients and more traditional stuff (e.g. a salad of mudcrab and avocado; rack of lamb crusted with pistachios and wrapped in pancetta).

Nameless Chinese Restaurant.  During our wanderings one day, we sought out the Little Bourke Street area, Chinatown, for lunch.  Without a particular destination in mind, we stumbled into one of the few restaurants that lacked a menu we could preview; actually, the menu was out there, but it was all written in Chinese and had no translations or pictures.  The name was in Chinese as well.  As we entered, we found the waitstaff spoke virtually no English.  On further observation, we were the only non-Asians in the place.  We were too embarrassed to leave, so we decided to roll with it.  It turned out to be a dim sum restaurant (I'd never been to one), and we just nodded our heads politely and let the feast begin.  We ate all sorts of lovely treats – dumplings, rolls, vegetables – but had no clue as to what we were consuming, due to our own lack of familiarity with dim sum, and the waitress' inability to explain it to us.  A culinary adventure for us.

Nameless Italian Restaurant.  Melbourne's Lygon Street is "Little Italy," with one restaurant after another.  When pressed, most people are unwilling to recommend one restaurant over another, arguing that they are all good and wouldn't survive in such a competitive environment otherwise.  And the competition is fierce (distasteful, even), as each place has someone hanging out on the sidewalk, hectoring passersby to visit their restaurant.  Four of us had a recommendation of a place from the Langham's concierge (corner restaurant, green and white awning), so we were able to resist the entreaties.  We had a terrific meal of the now-expected great green salads and entrée sizes of pasta.  (Note: In Australia, "entrée" means starter or appetizer, not main course.  At this particular restaurant, the entrée-sized portion was more than enough!)

*   *   *   *   *

After that first lunch, we decided we couldn't hold up the pretense of being perky and energetic anymore, so we retreated to our crisp-sheeted bed for much-needed naps.  Our first day in Australia held only one more activity: drinks and dinner with the rest of the CTT crew, whom we'd be meeting for the first time, but who had all met each other in Los Angeles.  We met in the hotel lobby before walking over to another Southbank restaurant: Chris, the CTT rep who joined us; Lynda and Neale, a couple from San Diego; Lell from Jacksonville (who was accompanied by Melbournian Alan, a friend of a friend); and Tina from San Francisco.  The rest of the crew had other commitments.  It was a pleasant group, with lots of common interests, who had gelled in the course of their common travels; however, everyone pretty much went their own way.  From here on out, we would have seats near each other at the tennis center, and would share airport transfers, but there was no enforced "group" mentality.  This worked nicely for me and Rick, who are decidedly not into "organized" travel, but love to meet new people on our own terms.

In Vino Veritas

I love wine.  I am no scholar of the grape, nor am I a sophisticated collector.  But over years of enthusiastically appreciating wine, I've come to learn what I like and dislike, and have developed good instincts for choosing wines which please me.  (I also admit to a weakness for a clever label or name, but have been fortunate enough to discover that the irresistibly (to me) labeled  "Fat Bastards" and "PoiZins" of the world are also good for drinking.)

About 10, or maybe more, years ago, I was totally unaware that Australia was even producing wines.  On a restaurant wine list, I saw an intriguing listing for "Koonunga Hill" (Penfolds) and I took a flyer on it.  A little later, I tried a Black Opal.  And so began a love affair with Aussie wines, especially shirazes.  Knowing that we had a full day free in Melbourne before tennis, I booked a tour of Yarra Valley wineries (with Yarra Valley Winery Tours) for Wednesday, January 26.  Because it was Australia Day, a national holiday, I booked the tour well in advance.

The weekend before leaving for Australia, Rick and I saw Sideways, a film based around tours of California wineries.  At one point in the film, wine neophyte Jack (the role played by Thomas Haden Church) picks a winery to visit – some slick mass market operation through which troop Greyhound buses-ful of tourists who drink merlot and appreciate the convenience of a box.  All of a sudden, I had an uneasy fear that I'd booked us in something like this.  However, when we were picked up promptly at 9:30 by our guide David, I saw that my fears were totally unfounded – we would be a small group of 6 (the others to be picked up in Lilydale) and the tour's destinations would be selected based on our interests.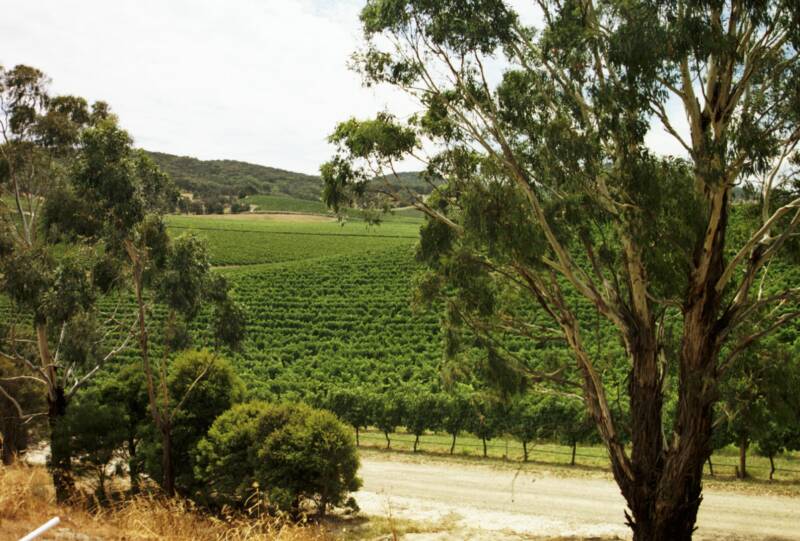 Yarra Valley wine country, as seen from deBortoli vineyards.

Because of Maryland's (and many other states') antiquated and byzantine liquor distribution laws, consumers may not receive direct shipment of wine.  And while a wine retailer can special order wine for you, the retailer can only do so if the winery has a local distributor.  (We're hopeful that a pair of cases currently pending in the Supreme Court will change those rules….).  Knowing this in advance, I carefully compared my local retailer's offerings against a listing of Yarra Valley wineries, so that we could choose which wineries we wanted to visit.  That way, once we got home, we'd at least be able to special order wine from a winery we visited.  Only one fit the bill: Yarra Burn.  And so we made Yarra Burn our priority.

David was more than willing to head to Yarra Burn.  Within in an hour of driving, we were in Victoria's wine country, a region of golden and green rolling hills and small towns, shadowed by the higher Dandenong Range.  We climbed out of the van, giving each other multiple Aussie Salutes (the constant flailing of hands about your face, to ward off black houseflies which are trying to gain entrance into your body through your eyes, nose, mouth and ears), and entered the "cellar door" – a cool stone building where tastings were being conducted.  We sampled a range of Yarra Burn's offerings, from lightest (sparkling wine) to the heaviest, and learned about the winemaker's craft while refining our own sensibilities.  Though among the most expensive of the offerings we would sample that day, we bought a couple of bottles – with the best intentions of buying only enough to drink while we were still in Australia, since we didn't want to lug any home.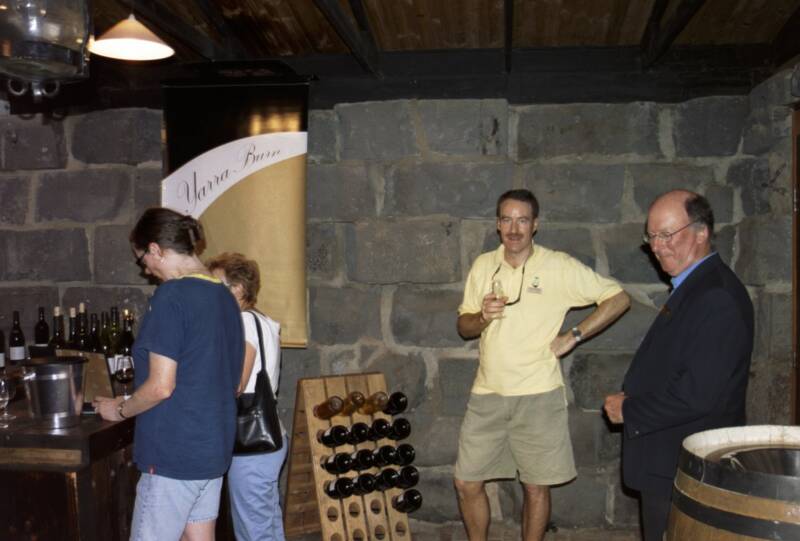 Rick, with our guide David, in the Yarra Burn cellar door.  Meanwhile, the tasting room at Yering Farm is a more rustic affair, built within an antique structure.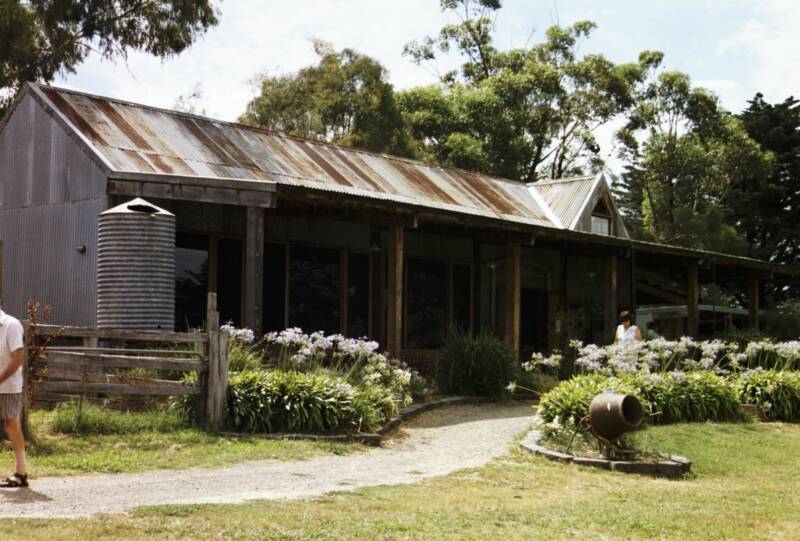 Our nicely conceived tour included a range of wineries, from slick, modern facilities, to expensively traditional brick edifices, to rustic metal-roofed barns.  We learned more about distinguishing flavors and aromas, grape varieties new to us (e.g. verdelho), and above all, what we liked and disliked.  Our tour included Balgownie, deBortoli (we had lunch there as well), Yarrawood, and Yering Farm.  Tour buses were not in evidence anywhere, and we found something to like and buy at every stop.  It was a very satisfying experience, though I will admit a bit of sensory overload by the end.  By this time, a new challenge developed: how to drink up all the wine we bought!!

Tennis Anyone?

The centerpiece of our trip was the Australian Open, one of professional tennis' four "Grand Slam" events (the others being Roland Garros (the French Open), Wimbledon, and the U.S. Open).  Our tickets were for the last 5 sessions: day and evening on Thursday, Friday and Saturdays' day sessions, and Sunday's twilight session.  This would allow us to see all of the semifinals and finals.  Men's tennis garnered an especially rabid following by the end, since Australia's own Lleyton Hewitt, the #3 player in the world, had reached the semifinals.

The tournament is held at Melbourne Park, a tennis complex located on the banks of the Yarra River at the edge of the downtown business district.  The location was particularly convenient for us, since we could reach it by a pleasant 15 minute riverside walk, water taxi, or tram (streetcar) – which was free for ticketholders.  This gave us the freedom to come and go as we pleased, especially if we needed naps between sessions, or wanted to eat outside of the venue.

The final round matches are played in Rod Laver Arena, an intimate stadium with a retractable roof that gets closed when it rains or when it is too hot (I believe 35C (95F) is the cutoff).  We've been to the U.S. Open a couple of times and had seats within both "show" courts – the huge Arthur Ashe and smaller Louis Armstrong – and neither of them compares favorably with the intimacy and atmosphere of Rod Laver Arena.  Our favorite court at the U.S. Open is Grandstand, which is cozy and seems to draw the most knowledgeable and enthusiastic crowds, letting the audience feel close to the action.  Though about the same size as Louis Armstrong, Rod Laver Arena has an atmosphere very similar to the U.S. Open's Grandstand.  Our seats were outstanding – about 18 rows above the playing surface, off to the side of the umpire.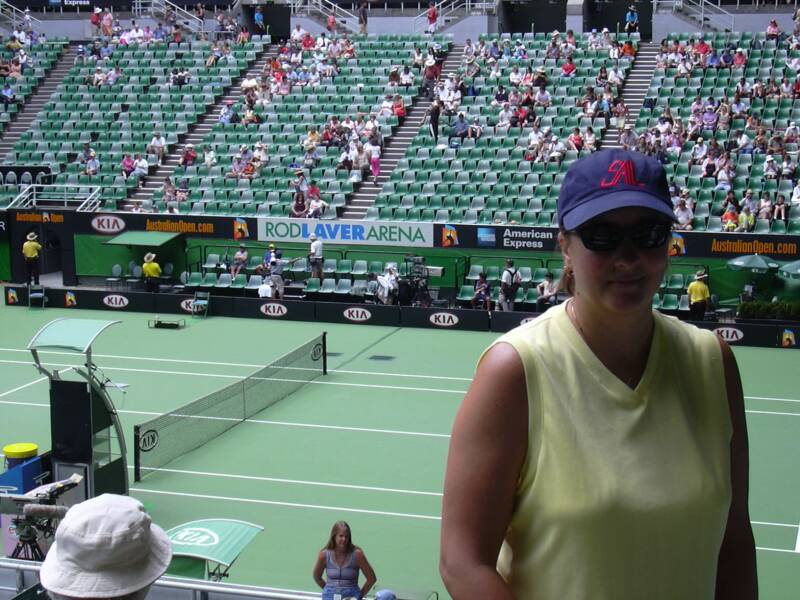 Australians are generally well-informed about tennis.  Even outside Melbourne Park, when we told people we were in town for "The Tennis" (that's all we'd need to say, throughout our visit), they were anxious to share their opinions and observations.   The television stations had excellent coverage of the matches, and replayed them in the evenings so that working people had a chance to watch too.  (Unfortunately, Aussies are just as devoted to their cell phones as Americans, and the inevitable phones ringing in the stands were pretty annoying.)

Unlike the stringent rules at the U.S. Open limiting what may be brought into the grounds, the rules at Melbourne Park were pretty loose: no glass containers.  So, when we tired of the food at Melbourne Park (we had passable Indian, and

It's almost surreal to find ourselves here -- half a world away, in a venue I never imagined I'd see in person.  But here I am, in Rod Laver Arena at the Australian Open.

and regrettable fried stuff), we had no trouble bringing in our own.  On Friday, a day which Rick and I spent exploring a bit of Melbourne, we went to Queen Victoria Market, a daily market which has dozens upon dozens of stalls, ranging from tacky souvenirs to bohemian clothing, to gorgeous produce and worldly delicatessens.  Think New Orleans' French Market, but bigger.  We picked up some savory, garlicky kabanosy (thin Polish sausage, a staple at my parents' house in Chicago), sharp New Zealand cheese, and giant Australian cherries – much to the undoubted envy of those sitting near us in the stands.  When it appeared that we would not drink enough of our Yarra Valley wine before leaving Melbourne, we decanted the best of it into plastic water bottles and brought it to the men's final match with us, sharing it with some of our crew.

With this as background, there was no doubt that our experience would be memorable.  Some special memories include:


-  Before we even saw a match in person, we had the surreal experience of watching the Hewitt/Nalbandian quarterfinal match on television in our hotel room and hearing, simultaneously on TV and outside our window, a barrage of explosions.  The players were just as surprised as we were at the noise!  The Australia Day fireworks had started in Federation Square, close to Melbourne Park.  Although our view didn't allow us to look at the fireworks directly, most of the display was reflected in the windows of the buildings we could see from our room.

-  We got to see Serena Williams' tennis … er … costume … in person.  Serena seemed a bit drowsy when she lost the first set of both her semifinal (against Maria Sharapova) and final (against Lindsay Davenport) matches, but when she shook the sleep out of her head – wow!  We also happened to be cabbing to dinner Saturday night along the Yarra River, just as champion Serena was taking a photo opportunity water taxi ride down the river.  She looked majestic.

-  Even though they were the runners-up in the womens' doubles (to a team that included Aussie Alicia Molik), Lindsay Davenport and Corina Morariu brought the crowd to tears.  Corina's recovery from leukemia, and Lindsay's loyalty to Corina, touched a chord in all of us.

-  The semifinal match between #1 Roger Federer and #4 Marat Safin was simply one of the most exciting and well-played tennis matches EVER.  It was a 5 set thriller that ended 9-7, in Safin's favor, in the last set.  I wanted Marat to win, since there's something almost tyrannical about Roger's dominance of the sport these days (not that he doesn't deserve it – he's a glorious player).

-  The semifinal match between #2 Andy Roddick and Lleyton Hewitt let us flex our patriotic muscles.  Though he is an incredibly polarizing figure in Australia (people admire his play and tenacity, but many despise his antics), the crowd was largely behind Lleyton Hewitt.  Especially the large group wearing yellow t-shirts for whom Lleyton purchased tickets, who cheered him loudly.  Honor drove us to provide as much support for Andy as we could (it was in vain, alas).  Lynda's and Lell's loud USA hats, and our vocal support, attracted the attention of Australian TV cameras (a cameraman plopped down right next to Rick), and Lell's friend Alan reported seeing at least some of us on TV briefly.  (My brother claims he saw me on ESPN2 as well.)  Neale was not especially partisan, limiting his cheers to "Way to go linesmen!" when they didn't bumble a call.

-  Despite the crowd's support for Lleyton Hewitt in the final, when Marat Safin won the championship in 4 sets, they received him warmly as well.  No one deserved the championship more than The Slayer of Roger.  Safin – who was funny, engaging and gracious in his speech – managed to wrap the crowd around his finger.