SAILING IN BELIZE  FEBRUARY, 2003

Natural Disasters R Us

They call me Typhoon Tonya.  "Tonya" is my nom de guerre, my boat alias.  "Typhoon" was added to it because my impending arrival to a destination seems to herald disaster, visiting hurricanes, tropical waves, unseasonably bad weather, and other unwelcome natural phenomena on my intended vacation spot.  Because my track record is so reliably bad, my crew decided it was time to bury the "Tonya" moniker.   A website I'd found, which generates a pirate name for you based on a questionnaire, seemed like the answer.  I became Captain Ethel Flint; my husband Rick became Mad Jack Flint (they even gave us the same last name!), and our other crew member Jeff became Dirty Jack Rackham (that's pronounced "Rack-em").

And so it was that "Ethel" and the two "Jacks" found ourselves heading for a bareboat sail in Belize.   Rick and I had traveled to Belize in  February of 1999.  Even though Ambergris Caye had a very lively feel to it, and notwithstanding the diving community's arrival here in force, the cayes of Belize still had a wild and undiscovered feel to them.  Even though we were tossing about, and saving frequent flier miles for, such alternative charter destinations as Tahiti and the Whitsunday Islands, there seemed to be an imperative to sail Belize before everyone else figured it out.  When we stopped at TMM's docks in San Pedro in 1999, their handful of boats were the only ones available in Belize; now TMM has a second base in the south in Placencia, as does the Moorings.  Seemingly not a moment too soon, we were leaving for Belize on Friday, February 7, 2003.

Despite attempts to kill off  "Tonya," we seemed unable to shake her negative influence.  Thursday before departure, the forecast called for snow in Maryland; I hoped desperately that the weather reporters were wrong as usual, but on a whim, tossed my cell phone in my luggage anyway, something which NEVER accompanies me to the islands.  Friday morning, there was 6-8 inches of snow on the ground when our limo picked us up, and it was slow going to the airport, since the snow was still coming down.  (I made a concession to the weather in my attire: I wore socks with my Teva boat sandals.)  The airport was chaotic, but we were on board the plane by 7:45 a.m.; late for the 7:26 scheduled departure, but not bad, all things considered.  Of course, taking off was still up in the air.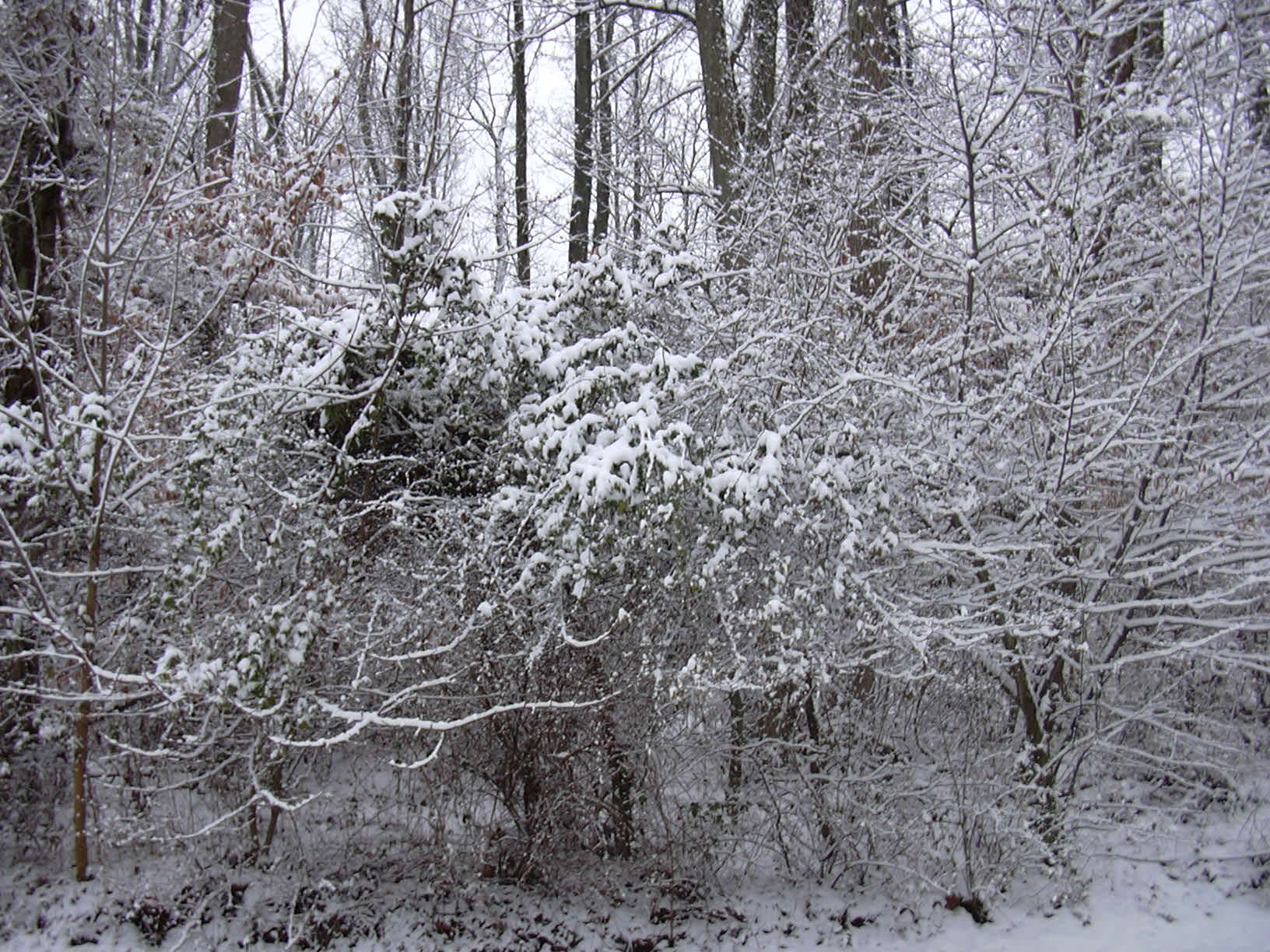 Who's afraid of a little snow?

It soon became apparent that when and if the plane took off, we would likely miss our connection to BZE, the only flight that day. Armed with cell phones and way too much experience at hastily rearranging travel plans, Jeff and I went to work: I re-booked us on the MIA-BZE flight for Saturday; Jeff, who works for Marriott, arranged for a villa rental in Miami; I called TMM to re-arrange our inter-island flights and to inform them of our likely delay; and Jeff called a friend to make arrangements for a night on the town.  Well before the plane even took off, we had a solid Plan B in place and could now relax.  Yes, we were bummed about starting vacation a day late, but there are worse things than spending a day in Miami (like spending a day and night in MIA).

The Odyssey of the Luggage

After waiting out clearing of runways, de-icing, offloading of passengers and luggage (to make weight), the flight finally departed about 3 hours late, getting us to Miami just before 1 p.m.  Rick headed straight to baggage claim, while I arranged for a rental car.  In order to retrieve our bags from suspended animation (they would be "held" until we made the flight to BZE the next day), Rick went upstairs to the American Airlines counter to request that the bags be pulled; he was told we'd have them within the hour.  So we ate lunch, killed some time, and checked for the bags again.  Nothing.  Rick checked again with the baggage office, and was now told it would be several hours, so we decided to leave the airport.

Having planned a night at a popular dinner club/burlesque show in Miami Beach called Madame's (arranged by Jeff's friend German, who is an investor) required some shopping.  I was already wearing the "best" clothing I had with me for travel: Tevas, cargo pants with zip-off legs, and a safari-type shirt.  This simply would not do.  While I always travel with appropriate clothing for planned jaunts to cities, my chartering wardrobe consists of swimsuits, t-shirts, shorts, a cotton sundress or two for going "out," no cosmetics (but a fully-stocked first aid kit!) and those ever-so-elegant Tevas.  The boys were equally limited.  So we headed to a mall and picked up Miami-hot clothes, the likes of which would not otherwise grace our wardrobes, but which made is feel at home here during this unplanned visit.

Next stop was to our night's lodging, a vacation club villa near the Doral golf course in Miami.  The accommodations were definitely plush: a beautifully decorated and luxuriously appointed 2-bedroom villa with a view of the golf course and a large pond and fountain.  The master suite had an enormous Jacuzzi tub and a huge stand-alone shower.  Too bad we weren't staying long!

Back to the airport, where our luggage still hadn't appeared.  I started questioning the baggage agents in the claim area, and when they checked our file, it appeared that our "pull" order had not been properly entered.  So, if we wanted our bags (we did), one of us would have to go upstairs to the ticket counter (again), wait in line (again), ask that the order be issued (again), and then wait for the bags for several hours (again).  Or we could trust that the bags would make it on our flight the next day  which we were not prepared to do.  Feeling sorry for us, one of the baggage guys, Kevin, volunteered to personally find our bags if one of us would complete the paperwork upstairs.  Twenty minutes later , we had them (mine had been opened by TSA with no note). 

By now, we were running late for our dinner reservation, so it was all we could do to run back to our villa, throw on our new clothes, and drive to Miami Beach.  We faced hideous traffic all the way, and were late, but finally had our chance to kick back and enjoy Madame's.

Madame's is one of those places you must experience to believe.  It has a look that is a cross between a nightclub and a bordello (not that I've ever been in one), with dimly lit tables, lush velvety fabrics and hangings everywhere, and risqué artwork.  The waitstaff are also part of the show.  With the exception of one or two of them, all of them are males dressed in over-the-top drag, all of whom perform on stage throughout dinner (though you are never neglected while your server is one stage; one of the others slips in to take care of you).  While we were being entertained by the performers, we enjoyed yummy drinks (mojitos and martinis) and dined on modernized Southern-style comfort food.  Alas, by about 9:30, the day's battles (which started at 4:30 a.m.) were starting to take their toll on us, so we headed back to Doral and our beds.